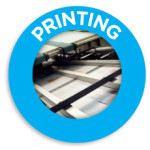 .
By choosing T&T Creative Specialties as your print professional we can help design and reproduce your project that will make you stand out from the rest, while helping maintain your budget. We understand the importance of each printed piece is to our customers, regardless of the quantity or number of colors. T&T Creative Specialties is here to ensure your printed materials are delivered in a timely manner and meet your quality expectations. We are committed to keeping the customer "number one" with our ability to adapt our services to specifically meet customer needs.
Small example of print services we offer:
•  Flyers / Brochures
•  Business Cards
•  Postcards
•  Newsletters
•  Magazines
•  Letterhead / Envelopes
•  Catalog / Booklets
•  Pocket Folders
If you do not see the printing product you're looking for? Contact us so we can assist you better. We will be happy to provide you with a print quote, either by phone, email or use our Estimate form.

Design
Are you in need of a simple black & white Form or a full-color marketing Brochure? T&T Creative Specialties has you covered. We take what you have envisioned and apply our creativity and detail oriented approach to create a design that is ideal for you. The finished piece should convey your message while leaving a lasting impression with your intended audience.
Here are a few sample pieces we have done.
…